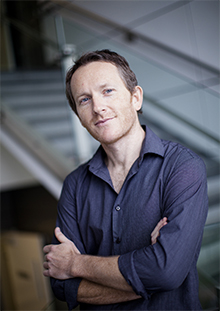 Dr Adrian Carter
Senior Research Fellow
Career to Date
Dr Adrian Carter completed his PhD at the Queensland Brain Institute at the University of Queensland (UQ) in 2009 for which he received the UQ Dean's Award for Outstanding Research Higher Degree Thesis. His dissertation was published as a book by Cambridge University Press in 2012, entitled Addiction Neuroethics: The Promises and Perils of Neuroscience Research of Addiction. In 2010, he was awarded an NHMRC Postdoctoral Research Fellow and moved to the School of Psychological Sciences, University of Melbourne (2010-2011) before returning to the UQ Centre for Clinical Research (2011-2014). In 2014, Dr Carter received an ARC Discovery Early Career Research Award (2014-2017) and took up his current position as Senior Research Fellow at the Monash Clinical and Imaging Neuroscience at the School of Psychological Sciences, Monash University.
Research Focus
Dr Carter is a leading figure in the field of Addiction Neuroethics: research examining the impact that neuroscience has on our understanding and treatment of addiction and other compulsive behaviours. Core topics include the impact of neuroscience on: notions of agency, identity and moral responsibility; public and patient understanding of addiction; the use of coercion in the treatment of addiction and mental illness; the capacity for voluntary control of addictive or compulsive behaviours; and the use of emerging technologies, such as deep brain stimulation and brain imaging, to treat addiction and other mental illnesses. His latest research investigates the ethical, legal and social impact of medically induced compulsive behaviours in patients treated for Parkinson's disease.
Dr Carter has been funded by grants and fellowships from the Australia Research Council (ARC), the National Health and Medical Research Council (NHMRC), the World Health Organization (WHO), the European Monitoring Centre for Drugs and Drug Addiction (EMCDDA), the British Columbia MIND Foundation, the Royal Brisbane and Women's Hospital Foundation, the University of Queensland and the University of Melbourne. Dr Carter has over 80 publications in some of the top ranked journals in the field (e.g. Addiction, American Journal of Bioethics) and has produced reports for the WHO, EMCDDA, and the Australian Ministerial Council on Drugs Strategy. He has also been an advisor to the WHO and United Nations Office on Drugs and Crime on the use of coercion in drug treatment and the ethical treatment of opioid dependence. Dr Carter is a member of the Communication Committee of the International Neuroethics Society (INS), and past member of the INS Program Committee.
Honours and Distinctions
2014 – Honorary Research Fellow, University of Queensland Centre for Clinical Research
2013 – UQ Centre for Clinical Research Shimadzu Young Investigator Award
2012 – Australasian Professional Society of Alcohol and Other Drugs, Early Career Award for Excellence in Research and Science
2010 – Australian National Drug and Alcohol Award for "Excellence in Research"
2010 – UQ Dean's Award for Outstanding Research Higher Degree Thesis
Research Profile