Yucel Group
Monash Clinical & Imaging Neuroscience
Group Leader : Professor Murat Yucel
Research theme : Addiction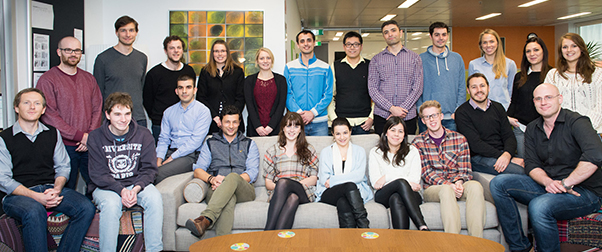 Group team members
Researchers
Research Support Staff
International Trainees

Professor Murat Yucel
(Group Leader)
(NHMRC Senior Research Fellow)
Dr Adrian Carter
(ARC DECRA Fellow)
Dr Orwa Dandash
Professor Leo Fontenelle
(Professor of Clinical Psychiatry)
Dr Valentina Lorenzetti
Dr Carsten Murawski
(Honorary Fellow of Neuroeconomics)
Dr George Youssef

Dr Chao Suo
Amy Finlay

Silvia Alonso
Judy Luigjes
Antoine Klauser
Laura Koenders
Sanne Oostermeijer
Lianne Schmaal
Yvonne van Dalen
Juan Verdejo

PhD/DPsych students
Honours students
Volunteer students

Simon Baker
Leah Braganza
Rothanthi Daglas
Marni Kras
Fernanda Mata
Linden Parkes

Chris Greenwood
Karen Guo
James Marrow
Erin Oldenhof


Danielle Amiet
Laura den Ouden
Stuart Oldham
Maya Shepherd
Ellen Stavrinos
Our vision and mission statement
Our mission is to understand the principles and mechanisms of human brain function in order to uncover the causes of mental illness.
Group's activities summary
Our research activities primarily use brain imaging and other tools from cognitive neuroscience to understand human brain structure and function in health and disease.

The principal areas of research focus are:
Substance and behavioural addictions;
Compulsive disorders;
Schizophrenia and other psychoses;
Network science and connectomics; and
Brian stimulation
Major Projects:
Impulsivity and compulsivity in obsessive-compulsive disorder and problem gambling: behavioural, neurobiological and genetic markers
This project will be looking at how the tendency to act in an impulsive or compulsive way may be related to behaviours that occur in everyday life and to certain brain, personality and genetic characteristics. We are also investigating whether apparently different disorders (such as OCD, obesity, problem gambling, and opiate addiction) may be underpinned by similar behavioural tendencies and brain substrates, and may respond to similar treatments and interventions.
Why do we get addicted? A population based twin study of the relationships between impulsive and compulsive behaviours
Impulsivity and compulsivity are core features of a range of adaptive and maladaptive behaviors. Despite this, little research has systematically characterised similarities and differences between these behavioural styles in normative samples. We have developed an online neuroscientific testing battery examining impulsivity and compulsivity across 9 behaviors (i.e., gambling, binge eating, shopping, alcohol, internet use, and obsessive-compulsive symptoms). 500 participants will be recruited via an online crowdsourcing environment and 1400 twins, which permits the unique opportunity to estimate the heritability and influence of shared and non-shared environmental factors on the prevalence of impulsive and compulsive behaviours/traits in the general community.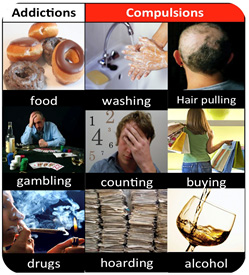 Individual differences in avoidance learning
Avoidance learning (AL) is necessary to ensure survival in the face of basic threats (e.g., predators, rotten food), but also promotes optimal responses to more abstract threats in social (e.g., enemies) and economic (e.g., risky investments) domains. However, too little or too much AL can lead to psychopathology. Indeed, AL is typically exaggerated in obsessive-compulsive disorder and reduced in addictions, leading to differences in the anticipation and avoidance of aversive outcomes. Here, we will recruit healthy individuals and conduct a newly developed AL task to disentangle individual differences in the extent of AL and explore how differences are influenced by impulsive and compulsive personality traits.
Cannabis, the brain and psychosis *
Australians are among the highest per capita users of cannabis in the world. Over a ten-year period, we have documented the neurobiological, cognitive and mental health harms associated with regular cannabis use (see Figures). Structural, functional and biochemical compromise of the hippocampus, a brain region critical for learning and memory, are among the most consistently observed harms. Recently, we have shown that these neurobiological harms are dose-dependent and are a consequence of exposure to the drug. Currently we have a range of studies that are extending these findings, including trying to understand whether these hippocampal alterations are permanent, or can be restored following cessation or substantive reduction of use. With ~200 million cannabis users worldwide, our findings (positive or negative) will be of relevance to researchers, clinicians, policy-makers, and those affected by cannabis.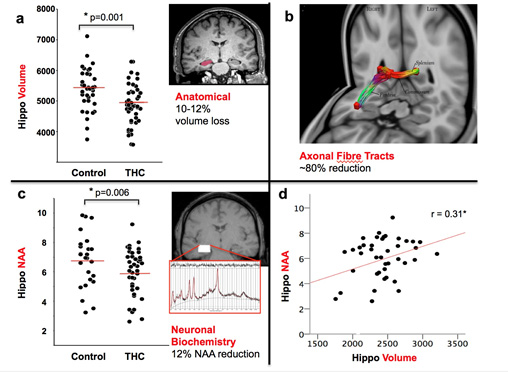 * Figure Caption (in relation to last listed study):
Cannabis related harms to hippocampal volume, microstructure and biochemistry
In a series of world-first studies, we have repeatedly shown the harmful effects of long-term cannabis exposure on the hippocampus, as detailed here.
Structure (Fig 1a). We reported in JAMA Psychiatry (formerly named Arch Gen Psychiatry) that hippocampal volume shows a dose-dependent reduction in cannabis users and this is a consequence (not pre-condition) of exposure to the drug. Connectivity (Fig 1b). In work published recently in Brain, we found that regular cannabis use is associated with an up to 80% reduction in micro-structural measures of axonal integrity in fiber pathways emanating from the hippocampus. Biochemisty (Fig 1c & d). Recent pilot analysis have shown lower hippocampal n-acetylaspartate (NAA) in cannabis users, reflecting reduced neuronal and mitochondrial integrity (Yücel et al., In Prep). Moreover, these NAA reductions correlate with hippocampal volume, providing a direct link between neuronal health and structural change. These findings have established the CIs as world leaders in this area. Many of these findings have been independently replicated.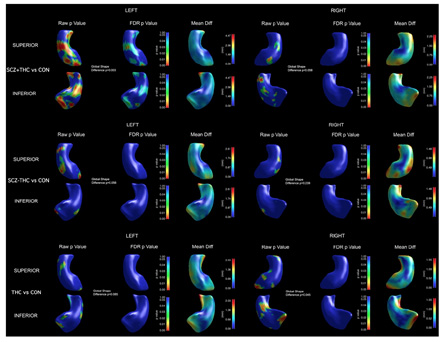 * Figure Caption (also in relation to the last listed study)
Shape statistical analysis significance maps showing comparisons between schizophrenia patients with cannabis use (SZ+THC) versus healthy controls (CON) (top), schizophrenia patients without cannabis use (SZ−THC) versus CON (middle) and healthy cannabis users (THC) versus CON (bottom).
Hippocampal shape changes were observed in each group relative to controls, with the greatest degree of alterations (i.e., deflations across the hippocampus, and with an anterior predisposition), in cannabis-using schizophrenia patients. These alterations were associated with cannabis use patterns and psychotic symptoms. Left hippocampus is depicted on the left and right hippocampus on the right, displaying superior and inferior views. For each view, raw p-value maps, FDR-corrected p-value maps, and mean difference magnitude displacement maps are shown (the latter visualising group test local effect size by displaying the magnitude of deflation (in mm) between the same points on the mean surface of each group.
Drug-induced impulse control disorders: clinical, ethical and legal implications
Dopamine replacement therapy, a treatment of Parkinson's disease, can induce severe impulse control disorders (e.g. pathological gambling, hypersexuality, and compulsive shopping and eating). This project aims to understand these patients' experience of drug-induced impulse control disorders, their perception of their ability to control their behaviour and the role that the medication plays in their behaviour, and the extent to which they identify with their actions or attribute them to their medication. The project will involve a range of quantitative and qualitative research methodologies, neurocognitive testing, critical reviews of the neuroscientific literature, and ethical and philosophical analyses (e.g. autonomy, personal responsibility, and authenticity).
The neurobiology of overeating: ethical, clinical and policy implications of "food addiction" in Australia.
Obesity is the fifth leading cause of premature death and one of the largest causes of preventable disease burden. Scientists believe that treating obesity as a "food addiction" will improve treatments and policies for obesity and reduce stigma. However, promoting obesity as a "brain disease" or "food addiction" could impair obese individuals' ability to control their weight or seek treatment. It may focus attention on medical solutions at the expense of more broadly effective social polices for reducing weight and improving health. This project will examine the ethical, clinical and policy issues raised by "food addiction" models of overeating and the impact of neurobiological views on obese individuals. This research is essential to anticipate the social and behavioural impacts of neuroscience on obesity.
Ethical and social barriers to contingency management programs to treat drug addiction
Contingency management (CM) - behavioural interventions, such as financial incentives - are effective in reducing drug use and treating addiction. Some have raised ethical concerns about the use of financial incentives to "nudge" healthier behaviours. This study will examine ethical objections to CM and stakeholder's (e.g. clinician, public, addicted individuals, public) knowledge and attitudes towards CM. The results of this study will lead to: a greater understanding of the barriers to implementing effective CM; identification of clinician concerns about the use of CM; and the development of novel research projects to develop CM programs that may overcome these concerns.
Meeting the ethical, economic and regulatory challenges raised by mHealth
With 6 billion phone subscriptions reaching 87% of the world's population, smartphones will transform our ability obtain clinical data from users and provide personalised healthcare. The use of smartphones for these purposes is referred to as mHealth. However, mHealth technologies raise unprecedented ethical (e.g. privacy, surveillance) and regulatory issues (e.g. they are currently unregulated) that need to be addressed. This project will examine the technological, ethical, governance and economic challenges raised by mHealth, including a qualitative and quantitative study of consumers' views on the use of mHealth in exercise and nutrition.