Yap Group
Group Leader : Dr Marie Yap
Research theme : Psychopathology: Prevention and Intervention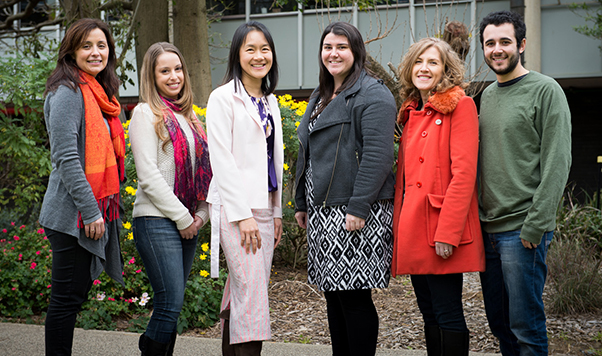 Group team members
Researchers
PhD/DPsych students
Honours students

Dr Marie Yap (Group Leader)
(NHMRC Career Development Fellow)

Mairead Cardamone-Breen
Samantha Finan
Samara Wilson
Jacqueline Green

Catherine Roberts
Elliot Teperman
Our vision and mission statement
The vision of this group is to discover what parents can do to protect their child's mental health, and to empower them to do so. We have 2 primary research objectives:
Knowledge expansion: To increase our understanding of the prospective influence of modifiable parental factors on the development of depression and anxiety problems in young people.
Knowledge translation: To translate existing research evidence into guidelines and public health preventative and early interventions that equip parents to prevent, delay, or reduce the impact of mental health problems in their children.
Group's activities summary
Parenting Strategies research translation program: This website provides guidelines for parents to help prevent depression, anxiety, body image and alcohol misuse problems in their children. There is also a web-based parenting intervention program that offers tailored information for parents based on their individual needs, to help them prevent alcohol misuse in their adolescents. We are currently working on a similar program to help parents prevent adolescent depression and anxiety. Plans are underway to conduct randomised controlled trials to evaluate the effects of these interventions on parenting behaviours and adolescent alcohol use and mental health.
Barriers and facilitators of parental engagement in preventative interventions for child mental health: We have various qualitative and quantitative projects examining these factors for different age groups and various mental disorders. We are also planning to conduct experimental interventions to see if these can increase parental engagement.
Training Parents of Teenagers study: This is a longitudinal randomised controlled trial to examine the effects of training parents in mental health first aid (MHFA) on teenagers' mental health in the long term. MHFA involves providing help to a person developing a mental health problem or in a mental health crisis, until appropriate professional treatment is received or until the crisis resolves. We would like to find out whether adolescents whose parents have been trained in MHFA will have better mental health outcomes, feel better supported by their parents, and be more likely to seek appropriate help if they develop mental health problems.
Tuning into Teens study: This is a cluster randomised controlled trial to evaluate a new parenting program, Tuning in to Teens (TINT), as an intervention to prevent adolescent mental health problems. Secondary schools will be randomised into intervention or 1-year waitlist, and Year 7 students and their parents will be recruited to the trial. This study will provide evidence about whether a parenting intervention targeting parent emotion socialization is effective in improving parenting skills, increasing youth and parent emotional competence, reducing youth internalising and externalising behaviour problems, and preventing the onset of mental illness in adolescents.
Highlights