Verdejo-Garcia Group
Group Leader : Associate Professor Antonio Verdejo-Garcia
Research theme : Memory and Consciousness, Addiction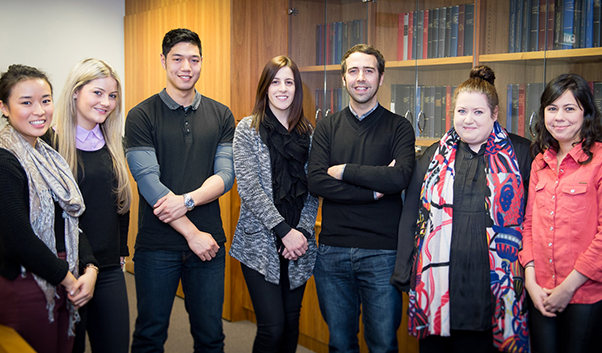 Group team members
Researchers
PhD/DPsych students

Fernanda Gomes da Mata
Amy Corcoran
Fiona Kirpichnikov
Plato Mak
Rebecca Fitzpatrick
Adam Rubenis
Our vision and mission statement
We seek to understand the cognitive and neural mechanisms underlying addictive behaviours, the detrimental impact of cognitive and neural deficits on the efficacy of behavioural change treatments, and the therapeutic potential of novel cognitive-enhancing interventions.
Group's activities summary
We utilize cognitive and brain imaging tools to understand how cognitive control and decision-making skills and cortico-striatal-insula neural circuitries contribute to the pathophysiology, the behavioural expression and the prognosis of disorders involving addictive-like behaviours, including substance dependence and obesity.
We are interested in discovering cognitive and neural profiles capable of longitudinally predicting treatment response and therefore improving treatment selection and treatment delivery. Current projects in this space include a naturalistic prospective study on the cognitive predictors of substance dependence recovery --spanning from detox to community reinsertion, and a clinical trial on the efficacy of weight loss interventions to improve decision-making skills in youths who are overweight and obese. Future studies will use information technology and machine learning techniques to match cognitive profiles with treatment options and treatment outcomes.
We are also interested in the potential of cognitive and neural systems information input in driving the development of novel therapeutic interventions for addiction and obesity. The main question here is could cognitive training improve the -currently poor- outcomes of addiction and obesity treatments? Current projects in this space include a randomized clinical trial of the efficacy of cognitive bias modification training to boost cortico-striatal neural plasticity and decision-making skills and to subsequently reduce alcohol relapse. We are also interested in the impact of tailored and ecological cognitive interventions that can be integrated in everyday activities. For example, future studies will aim at examining if cognitive trainings focused of personal goals management and experience sampling technologies can boost self-regulation in everyday life and hence reduce drug relapse or weight gain.

Brain structure associates with readiness to change in addiction: Correlation between gray matter volumes in the dorsomedial prefrontal cortex and self-reported precontemplation levels (i.e., ambivalent motivations towards treatment) in stimulant dependent users commencing treatment for addiction. This association illustrates how addiction related neuroadaptations impact subjective readiness for behavioural change.

Brain function predicts diet compliance in obesity: Insula activation during a cognitive decision-making task longitudinally predicts diet compliance in people who are overweight and obese, achieving 77% classification accuracy (80% sensitivity, 73% specificity).