Stout Group
Group Leader : Professor Julie Stout
Research themes : Neurodevelopment, Neurodegeneration, Memory and Consciousness, Addiction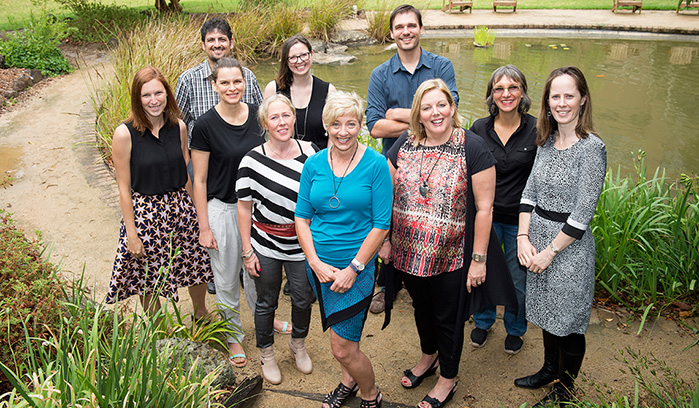 Group team members
Researchers
Research Support Staff
PhD/DPsych students
Honours students

Professor Julie Stout
(Group Leader)
Dr Sophie Andrews
Dr Yifat Glikmann-Johnston

Christophe Pourchot
Kian Davoodi
Melinda Holt
Alison O'Regan
Terri Mathot
Zoe Woodford
Noam Gordon
Merima Murathodzic
Emily Mercieca

Catarina Kordsachia
Clare Kempnich
Marni Kras
Anna Carmichael
Brendan McLaren

Felicity Evans
Cory Wasser
Our vision and mission statement
Our mission is to: 1) expedite finding a cure for Huntington's disease by leading the development cognitive and functional assessment tools for observational and clinical trials; 2) determine cognitive mechanisms of risk behaviour that contribute to driving and substance misuse related morbidity and mortality.
Group's activities summary
Major Research Projects on Huntington's Disease (HD)
Huntington disease is an autosomal dominant disease that typically shows onset in adulthood and individuals with the Huntington disease gene have a 50% probability of passing on the Huntington gene to each of their offspring. Research over more than 25 years documents the presence of Huntington-related symptoms prior to the onset of chorea. These symptoms, which encompass psychiatric, cognitive, motor, and other behavioural and personality disturbances have been reported retrospectively in many clinical studies. Prospective documentation for these symptoms, and a timeline that defines the onset and progression of symptoms prior to meeting the chorea-defined diagnosis, has been much more elusive.
Track-HD and Track-On Projects

These are a multi-centre, multi-national prospective, observational biomarker study of premanifest and early stage HD with no experimental treatment. Research sites are in Vancouver Canada, Leiden Netherlands, London, and Paris. Track-HD and Track-On HD will examine the sensitivity of individual and combined clinical and biological outcome measures for tracking progression of HD. The overall objective of the study is to find out what combination of imaging and clinical measures are the most sensitive for detecting change over the natural course of HD, with a view to validating these measures for use in future therapeutic trials. Our group leads the cognitive aspect of this study.
Clinical Trials with the HD-CAB
The HD-CAB is a 40-minute cognitive assessment battery developed, characterised, and validated in a joint study led by the Stout group and the CHDI Foundation. The HD-CAB is now being used in several ongoing Phase II and Phase III clinical trials. Our group leads the implementation of the HD-CAB in several of these trials, and we are working to develop efficient means of implementing the HD-CAB under rigorously controlled and 21CFR Part 11 compliant conditions.
Stem Cell Transplant Studies in HD
The Stout group is working with two stem cell transplant programs outside of Australia that are undertaking preparative research in advance of human stem cell transplants for HD. Our role is to facilitate the clinical, and especially the cognitive evaluation of patients in an observational period, and then, once transplants occur, in transplanted patients.
The HD Family and Emotional Functioning Project
In several linked projects, we are examining the impact of Huntington's disease on family function, and on the processing of emotional information, known to be affected in HD. We are testing family functioning measures for the suitability for HD. In a separate, we are examining how the ability to understand the facial expressions of others relates to the ability to express emotions normally in facial muscles. We are trialing an emotion recognition training program on people with HD.
Cognitive Models of Decision Making in Young Drivers and in People with Substance Misuse Disorders
The goal of these projects are to develop and apply formal models of decision making to examine the cognitive mechanisms of risky decision making in young drivers and in people with substance misuse disorders.
Decision models allow the study of individual differences in cognitive and motivational processes of decision makers. The projects' specific aims include development and implementation of hierarchical Bayesian methods for comparing alternate decision models, parameter estimation, and tests of generalisation across decision tasks, and then application of these methods to identify cognitive mechanisms underlying risky behaviours in young drivers and people with substance misuse