Kazantzis Group
Cognitive Behaviour Therapy Research Unit
Group Leader : Associate Professor Nikolaos Kazantzis
Research theme : Psychopathology : Prevention & Intervention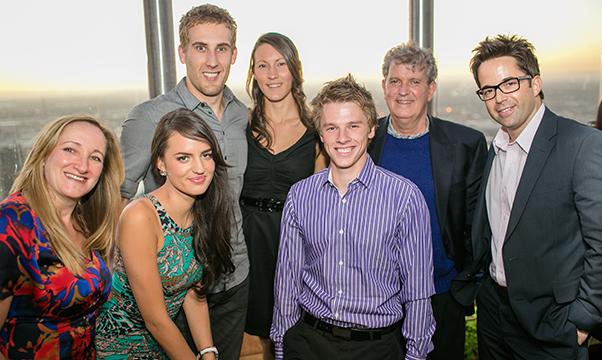 Group team members
Researchers
Visitors/ Key Collaborators

Research Support Staff
PhD/DPsych students
Monash Collaborators


Associate Professor Nikolaos Kazantzis (Group Leader)

Dr. Davide Farchione
(Department of Statistics, La Trobe University)
Prof. Judith S. Beck
(University of Pennsylvania and Beck Institute for Cognitive Behavior Therapy, USA)
Prof. Keith S. Dobson
(University of Calgary, Canada)
Prof. Stefan G. Hofmann
(Boston University, USA)

Xavier Clayton
Chiara Paganini
Sara Radovic
Jacqueline Riddiford

Charlotte Boyce
Maria Lambrou
Kim Luong
Leah Zelencich

Prof. Sean Drummond
Dr. StellaMay Gwini, Department of Epidemiology & Preventative Medicine
Dr. Laura Jobson
Prof. Jayashri Kulkarni, Monash Alfred Psychiatry Research Centre
Dr. Adam McKay
Prof. Peter Norton
Prof. Jennie Ponsford
Dr. Katrina Simpson
Prof. Helen Truby, Monash Nutrition and Dietetics Department
Dr. Dana Wong
Our vision and mission statement
Our mission is to conduct world-leading clinical research that advances the scientific knowledge and clinical practice of Cognitive Behaviour Therapy.
Group activities summary
Our research uses clinical trial methodology, including observational assessments of in-session therapy processes, clinical and neuropsychological, neuroimaging and other assessments to understand response to Cognitive Behaviour Therapy.
The main areas of research focus are:
CBT for complex depression (comorbid with anxiety)
Practitioner-patient interaction
Treatment adherence
Biological and psychological predictors of treatment response
Major Projects
Towards evidence-based practitioner-patient relationships in psychological therapies (PhD top-up Scholarship Available)
Growing evidence suggests that the effects of psychological therapies can be enhanced by specific elements of the professional relationship between practitioner and patient. While such elements have significant implications for clinical practice (e.g., expressed empathy, developing and maintaining a working alliance, and active collaboration in-session), the issue has not been comprehensively investigated. Two major obstacles have been the lack of systematic review of the existing evidence, and instruments to measure and characterize the practitioner-patient relationship (i.e., "therapeutic relationship.") The PhD project will: (a) systematically and quantitatively review the evidence for practitioner-patient relationship elements across a range of models including Cognitive Behaviour Therapy (CBT); and (b) develop and test a new instrument of the practitioner-patient relationship. The research will be carried out within the Cognitive Behaviour Therapy Research Unit (http://www.med.monash.edu.au/psych/cbtru/) and supervised by A/Prof Kazantzis (Psychology). The review will also be co-supervised by Dr.Whittington (Assoc.Director, Centre for Outcomes Research & Effectiveness, UCL), and the instrument design and evaluation by international CBTRU collaborators Prof.Dobson (Univ. Calgary) and Prof.Hofmann (Boston Univ.)
What works for whom? Techniques with the greatest utility in CBT for depression
CBT has demonstrated efficacy as a first line intervention for acute phase depression. Predictors of its effects following the cessation of treatment remain elusive. This project will provide the first systematic examination of techniques within CBT, in comparison to a shortened treatment Behavioural Activation Therapy (BAT). State-of-the-art research facilities at CBTRU will be used to observe/evaluate sessions from NIMH-funded clinical trials, and examine 6-,12-,18-, and 24-month follow-up patient data.
Individual differences in treatment response
In this research, we are designing a new patient measure to explore how differences in cognitive, emotional, and relational skills influence, and are influenced by treatment response. We are using both clinical and neuropsychological assessments, and will expand with neuroimaging to identify predictors of response to CBT.
Enhancing treatment adherence
Psychological therapies, and CBT especially, depends on active client participation and practice of between-session (homework) interventions. This research will systematically and quantitatively review the evidence for adherence, and examine specific therapist competencies in facilitating adherence within a prospective trial within CBTRU's complex depression clinic at the Monash Psychology Centre. Our research unit has lead the field in better understanding patient adherence behavior, developing new measures of adherence, and in testing a new adherence enhancement protocol in both experimental and applied translational contexts.
Identifying biological adjuncts to enhance treatment response
We are evaluating dietary supplements that enhance cognitive performance, including a study of whether the cognitive deficits in depression can be more quickly reversed with augmented CBT.
Therapeutic relationship in CBT for severe depression
CBT has been found to be effective in more than 400 outcome studies for a myriad of psychiatric disorders, including depression. Yet, many individuals experience depressive relapse or do not fully respond to treatment, and there is a need to understand what determines positive response and sustained benefit. This research will evaluate theoretically important CBT-specific therapeutic relationship elements (collaboration, empiricism, and Socratic dialogue) in the prediction of treatment outcomes. CBTRU researchers have designed and evaluated new measures of these important elements of therapeutic process and this project will represent a comprehensive validation study.
Therapeutic relationship in MI and CBT for anxiety and depression following traumatic brain injury
This research project will use data from a completed clinical trial of motivational interviewing and CBT for anxiety and depression in individuals with traumatic brain injury. This project will examine (in depth) the role of the therapeutic relationship, including working alliance and collaborative empiricism, and will investigate various client characteristics in predicting response to CBT in individuals with traumatic brain injury. This research will be carried out within Monash-Epworth Rehabilitation Research Centre and supervised by Prof. Ponsford (Psychology), the therapeutic relationship assessments will be supervised by A/Prof. Kazantzis (Psychology) within the Cognitive Behaviour Therapy Research Unit