Georgiou-Karistianis Group
Experimental Neuropsychology Research Unti (ENRU)
Group Leader : Professor Nellie Georgiou-Karistianis
Research theme : Neurodevelopment ; Neurodegeneration
Group team members
Researchers
Research Support Staff
PhD/DPsych students
Honours students

Professor Nellie Georgiou-Karistianis (Group Leader)
Dr Govinda Poudel
Dr Ian Harding
Dr Juan Dominquez
Dr Melita Giummarra (NHMRC Early Career Fellow)
Liane Loannou
Monique Stagnitti

Catherine Ralston
Krista Crawford

Anthony Tsay
April Philpott
Clare Kempnich
Jessica Despard
Katherine Baker
Lincoln Tracy
Naznine Anwar
Sarah Milne
Shannon Driscoll

Debroah Lewis
Julia Nazarewicz
Leya Snider
Christina Van Sanden
Mark Tyler
Rochel Bendet
Our vision and mission statement
The Georgiou-Karistianis group is dedicated to producing high impact research aimed at investigating linkages between brain mechanisms and the cognitive and motor signatures in neurodegenerative disorders. We strive to:
enhance understanding of behavioural consequences of disease, enable the development of novel strategies for management of symptoms, and provide ground-breaking new insights on functional operations of the human brain in both health and disease;
provide interdisciplinary research opportunities via a range of national and international collaborations, high level training of postdoctoral research staff and graduate students, access to a range of clinical populations and state-of-the-art behavioural and neuroimaging platform technologies, as well as expertise in development and design of experimental paradigms.
Groups activities summary
The group is headed by world renowned cognitive neuroscientist Professor Nellie Georgiou-Karistianis, and consists of a dynamic group of postdoctoral fellows, research assistants and graduate students. The group has a major focus on neurodegenerative disorders, in particular Huntington's disease and Friedreich ataxia, as well as in the study of pain in clinical populations. Specifically, our work aims to:
Define clinical, motor, cognitive and brain changes over time in neurodegenerative disorders so as to accelerate the discovery of sensitive biomarkers of disease progression to make efficient clinical trials possible (e.g., IMAGE-HD and IMAGE-FRDA two large scale longitudinal neuroimaging studies)
Establish links between changes in brain networks with genetic markers, clinical, motor and cognitive deficit
Understand mechanisms of brain compensation/cognitive reserve, and how this develops with pathology
Develop computational neuroscience models that can predict a pattern of disease progression with better precision of estimated disease onset
Use cognitive and motor rehabilitation strategies to change course of disease, delay onset, and improve functional outcomes and quality of life
Understand the neurobiological correlates of pain by investigating the relationship between emotions and sensory experience in both healthy individuals and clinical populations (e.g., amputees, sufferers of traumatic injury and/or chronic pain). This is achieved via pain studies employing a range of experimental techniques and technologies.
In addition to providing fundamental data, our research outputs have led to significant translational outputs with the development of management strategies for improving quality of life and on-going assessment of those with neurodegenerative disorders (e.g., the provision of external visual cues to help improve motor performance in Parkinson's disease).

The group offers intellectual, modern and practical mentorship and leadership for young researchers and attracts psychology/neuroscience students from all around the globe. The group also offers exciting projects at the honours and doctoral levels for research training and promotion.
The group falls under the following research themes within the School of Psychological Sciences: Movement Disorders & Ageing, Neurodevelopment & Disorders, Brain Injury & Rehabilitation and Addiction & Consciousness.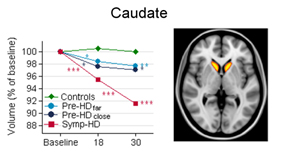 Figure showing caudate volume loss over 30 months in both premanifest and symptomatic Huntington's disease individuals, relative to controls (unpublished results from the IMAGE-HD study). Premanifest individuals are free from symptoms and have been sub-divided as either close or far from expected disease onset. Caudate volume loss is much more accelerated in symptomatic individuals with significant progressive change also noted during premanifest stages of the disease.

Brain regions showing increased functional activity over 30 months in premanifest Huntington's disease individuals, relative to controls, potentially indicating a compensatory response (a). Decreased functional connectivity between caudate and dorsolateral prefrontal cortex (DLPFC) in premanifest individuals over 30 months. Boxplot shows connectivity values. (Modified from Govinda et al. Brain Struct Funct 2013).