Fornito Group
Monash Clinical & Imaging Neuroscience
Group Leader : Associate Professor Alex Fornito
Research theme : Psychopathology: Prevention and Intervention, Neurodegeneration, and Neurodevelopment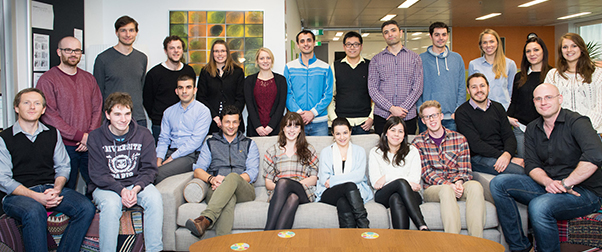 The team at Monash Clinical and Imaging Neuroscience.
Group team members
Researcher
Post-Docs
PhD Students
Research Assistants

Associate Professor
Alex Fornito
(ARC Future Fellow)

Dr Ben Fulcher
(NHMRC Early Career Fellow)
Dr Paul Klauser
(Swiss National Fellow)
Dr Nigel Rogasch
(NHMRC Early Career Fellow)

Simon Baker
Orwa Dandash
Michelle Lamblin
Linden Parkes
Ari Pinar

Amy Finlay
Lab vision and mission statement
The human brain is an extraordinarily complex network comprising billions of nerve cells connected by trillions of fibers. Collectively, this network is called a connectome. Our inter-disciplinary team concentrates on mapping this intricate web of connectivity in order to understand how its structure shapes brain function and to uncover how problems in neural communication lead to mental illness.
We work closely with the Yücel lab as part of Monash Clinical & Imaging Neuroscience to understand the brain in health and disease.
Our lab uses network science and complex systems theory to understand the brain. Our work is principally focused on understanding the following questions:
What are the critical organizational principles underlying brain connectivity?
Are there genetic constrains on brain network wiring?
To what extent does brain network structure constrain function?
How do brain network dynamics support cognition, and how to they adapt to changing task contexts?
How is brain connectivity disturbed in mental illness?
To address these questions, our team uses a variety of brain imaging and stimulation techniques, including structural magnetic resonance imaging (MRI), functional MRI, diffusion MRI, positron emission tomography (PET), electroencephalography (EEG) and transcranial magnetic stimulation (TMS). We integrate these data with computational models and genetic analyses to identify candidate mechanistic explanations underlying variations in phenotypes of interest.
Our work has contributed new tools for analysing brain networks, shed light on how genes influence brain network development, and mapped connectivity disruptions across a wide-range of disorders, including schizophrenia, major depression, obsessive-compulsive disorder and attention-deficit hyperactivity disorder.
Our research is supported by both the NHMRC and ARC.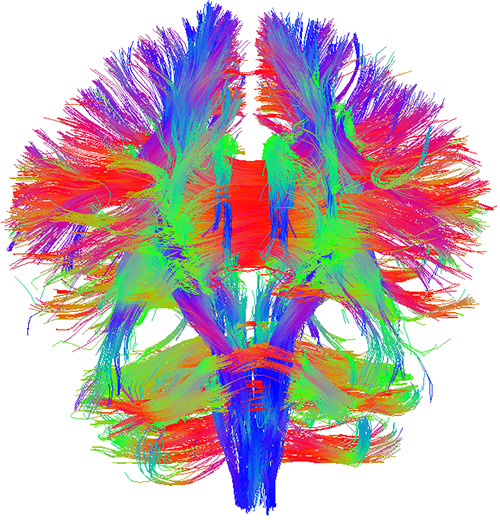 An example of map of human white matter connectivity generated using diffusion MRI and used as a basis for connectome mapping.