Cornish Group
Developmental Neuroscience and Genetics Disorders
Group Leader : Professor Kim Cornish
Research theme : Neurodegeneration ; Neurodevelopment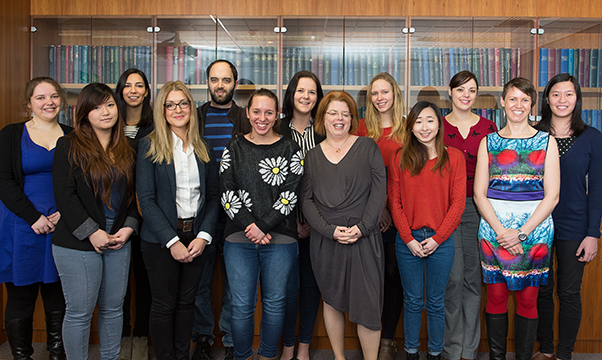 Group team members


Researchers
PhD/DPsych students
Honours students

Professor Kim Cornish (Group Leader)
Claudine Kraan
Anna Atkinson

Simonne Cohen
Fay Fletcher
Hannah Kirk
Samantha Law
Mistral Foster-Owens

Felicity Broadbent
Stefanny Christina
Megan Hansford
Elissa-Yvette Pasula
Natalie Claire Ringenbergs
Ariel Hui Juan Tan
April Valerie Vanderzwaran
Our vision and mission statement
This established group focuses on neurodevelopmental disorders and their trajectories across the lifespan. Embracing a truly interdisciplinary approach to understanding development across multiple levels of analysis, researchers will experience a range of innovative technologies designed to tease apart subtle pathways of function and dysfunction at the brain and cognitive levels (e.g. infra-red eye tracking, novel experimental paradigms). A critical component of this group is to chart BOTH typical and atypical developmental trajectories.
Group's activities summary
The focus of the Cornish Developmental Group is the developing brain. The brain goes through a remarkable journey across the lifespan from its start-state in the pre-natal period all the way through to late adulthood. A whirlwind of new research discoveries have helped shape our current understanding of how the brain develops and the constraints that shape later learning outcomes. In our group, we focus on how nature (i.e., genetics) and nurture (i.e., sleep quality, cognitive training) may serve to impact cognitive domains such as attention and motor control. Across a range of projects operating in this group, we study very young children as well as adolescents and adults using our own experimental paradigms that capture and observe developmental changes in real time.
In the NAPS project we aim to understand how sleep and attention interact throughout the childhood years in both children with an autism spectrum disorder and children that are typically developing. This work is crucial for understanding whether sleep disturbance is a major contributor to inattentive behaviours and poor cognitive development in children who are especially vulnerable to learning and memory impairments because of an underlying neurodevelopmental condition (e.g., an autism spectrum disorder).
Our DELTA research aims to design the first interactive attention training program for young children with developmental disabilities, using portable gaming technology that is highly motivating, easily accessible and transportable. This exciting research is aligned with the recent explosion of portable gaming consoles and for the first time is aimed at developing technologies with interactive user interfaces that facilitate cognitive improvement in core areas of functioning in children with developmental disabilities, such as attentional control.
The Australian Fragile X Carrier study is also ongoing in this group and has led to the identification of subtle cognitive, behavioural and neuromotor profiles in females that have a fragile X premutation . Working alongside geneticists we now aim to elucidate for the first time which of these profiles relates to (a) methylation of the gene, (b) reductions in the protein made by the Fragile X gene (FMRP) and (c) elevated messenger RNA transcripts. Together this approach allows us to tease out developmental trajectories associated with the fragile X gene.
The primary goal of the Cornish Developmental Group is to understand development. Through a truly interdisciplinary approach which utilises genetics, neuropsychology, sleep science and cognitive training across a typical AND atypical development, the Cornish Developmental Group is committed to providing new knowledge that will enable improved treatment and intervention for a wide range of individuals with neurodevelopmental disorders.