Zambian adventure a remarkable research experience
29 February 2012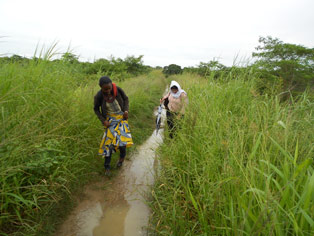 Fire ants and elephant-friendly traffic were all part of one Monash researcher's recent training stint in Sub-Saharan Africa.

Earlier this year Dr Bianca Brijnath spent three weeks in Zambia as part of a World Bank program, where she supervised a research team interviewing health staff at rural health facilities.

The team conducted 81 interviews as part of baseline evaluation of a World Bank-funded initiative. It is anticipated that the results will shed light on the motivation and job satisfaction of rural health workers in low income countries, the challenges and innovative methods they use to deliver healthcare, and yield a deeper understanding of the social and cultural context in which care is delivered.

"It was an amazing learning experience," Dr Brijnath said.

"We did four days of theoretical training in Lusaka and then we were into the field. The research settings were very different to how we might do things in Australia.

"Our team had to deal with the rainy season, roads that had been washed away, poor to no mobile coverage, malaria, and lots of wildlife - everything from elephant crossings to spiders and fire-ants!"

For Dr Brijnath, who specialises in cross-cultural research and mental health research, the experience allowed her to appreciate her own work conditions in Australia.

"Working in such settings gives you a totally different perspective and insight into planning and conducting research. You have to think carefully about the science and the logistics of what you are trying to do versus what is feasible."

Dr Brijnath currently holds an NHMRC Early Career Fellowship and is a researcher with the Department of General Practice in the Monash Faculty of Medicine, Nursing and Health Sciences.
---
Training the trainers
Monash University's Department of General Practice in the School of Primary Health Care, is helping train future Chinese GP 'champions'.
Please see the following story which was published in the Monash Memo on 5 August 2011
http://www.monash.edu.au/news/show/training-the-trainers
---
Towards an Integrated GP Curriculum at Monash University
Monday June 12th- Wednesday June 14th 2011
Tan Sri Jeffery Cheah School of Medicine
Johor Bahru, Malaysia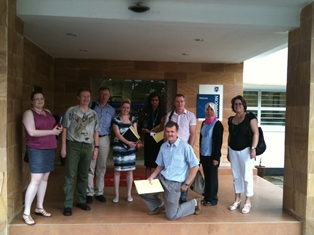 In June 2011, staff from Monash's campuses around metropolitan and rural Victoria travelled to our Malaysian campus in Johor Bahru for the Towards an Integrated GP Curriculum at Monash University conference. The conference was convened by our Head and Deputy Head, Professor Danielle Mazza and Dr Peter Barton. The conference provided staff from across all sites with a forum to share their teaching experiences, increasing our collective awareness of the diversity of current 4th Year General Practice term curriculum delivery. The conference provided a timely and unique opportunity for Monash University staff who are involved in the development and delivery of the 4th Year General Practice program across the various campuses to meet, forge relationships and move towards a more integrated course structure. A key outcome of the meeting was the development of "Monash GP", a network of staff involved in general practice teaching and research across all Monash campuses.
Dr Cathy Grech
MBBS FRACGP
Department of General Practice
Monash University
---
Dr Maimunah Mahmud (Malaysian GP Fellow) publication "Preconception care for women with diabetes: a review of current guideline recommendations" highly accessed for age
Maimunah Mahmud joined the Department of General Practice as a Fellow in 2009 examining general practice aspects of women's sexual and reproductive health. In Maimunah's practice in Malaysia she has a large population of women of reproductive age who are diabetic. Her research project sought to define current best practice in preconception care for these women. She chose to publish in an open access journal so that her findings could be disseminated widely in her region and accessed easily by those in developing countries who have a higher burden of disease in this area. Maimunah's article has subsequently been nominated by the publishers as "highly accessed for age" with the total number of accesses since publication at 2163.
Preconception care for women with diabetes: a review of current guideline recommendations
Maimunah Mahmud and Danielle Mazza
BMC Women's Health, 10:5 (31 January 2010)
http://www.biomedcentral.com/1472-6874/10/5
---
Associate Professor Jan Coles leads International Briefing Paper for Sexual Violence Researchers
Associate Professor Jan Coles of the Department of General Practice has recently led the preparation of an international briefing paper for the Sexual Violence Research Initiative (Medical Research Council, South Africa) on researcher safety for researchers undertaking sexual violence research. The paper was a response to the needs of researchers in this area.
Jan began working in this area of research because of patients she was seeing in her clinical practice had difficulties with aspects of parenting because of their past history of childhood sexual abuse. It shows what clinical general practitioners can do when their research is based in responding to their communities.
---
Department of General practice welcomes 10 visiting Chinese Doctors for training in general practice
From Monday 12 April to the Monday 7 June the Department of General Practice was host to 10 doctors from Shenzhen in China. These senior doctors came to Monash University to learn more about general practice in Australia, general practice training and the Australian health care system. The doctors had a busy schedule of lectures, workshops and discussions accompanied by site visits to general practice clinics, the Victorian Metropolitan Alliance, Monash Medical Centre, the RACGP, the Monash Division of General Practice and the Springvale Community Health Centre. We hope that this will be the first of many visits by Chinese doctors to our department in the future.
---
The department of general practice supports international research students
Associate Professor Peter Schattner (pictured above, with a second photo showing his audience) recently ran workshops on evidence based medicine in general practice and an introduction to research methods, including survey design to assist several post-graduate fellows from Malaysia and Saudi Arabia. Further seminars are scheduled as part of the DGP Seminar Series to be held at the Notting Hill Campus on Wednesdays at lunchtime. These seminars are open to students and staff, academic colleagues, general practitioners and those involved in primary health care. To be added to our email distribution lists of seminars and events held in the department please contact enquiries.genpractice@med.monash.edu.au.
---
New Electronic Log Book
Fourth year medical students attending the Notting Hill program currently complete a paper based log book during their 9 week GP rotation. This provides us an insight into the types of GP conditions our students are seeing, how many problems, and how the student is involved in each patient presentation (i.e. history taking, examination, procedure or overall management).
In this next rotation (rotation 3) commencing on July 5, for a small cohort of students, for the first time we will be trialling an electronic log book that will do all of the above AND also enable us to compare what the student sees with BEACH data. The data can be seen by the Department in real time. If successful, all students will be using the electronic log book at all sites (and hopefully in other rotations (childrens, womens, psych) by 2011. This will enable us to know where students are most likely to come across specific presentations/activities (e.g. asthma, pap smears) and what important patient experiences students may be missing. It will also enable easier comparison between student experiences at different practices including between the urban, rural and Malaysian sites/programs. This exciting development has many other benefits and will undoubtedly open up/facilitate a range of research projects – up to your imagination! I look forward to a successful roll out.
Andrew Beveridge
Year 4 GP program co-ordinator
---
Peter Barton visiting Gifu, Japan as a visiting Professor of communication and medical education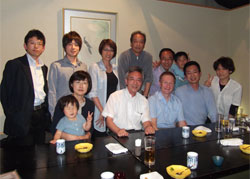 In June this year Peter Barton visited Gifu, Japan, as a visiting professor of communication and medical education. This followed a previous visit (2009) where he had lectured at the Medical Education Development Centre (MEDC) of Gifu University, one of Japan's two national medical education centres.
Peter provided lectures and seminars on clinical communication curricula (contrasting UK and Australia), feedback and consultation skills teaching, undergraduate ethics teaching, the massive Glasgow 50 station OSCE that he previously ran, and the state of clinical skills teaching in Scotland.
---
Happy Healthy Women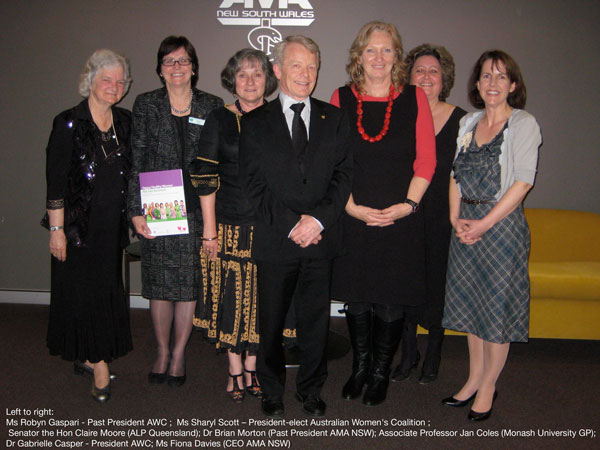 Every clinic visit provides an opportunity to ameliorate its effects.(1) Primary care providers have a unique opportunity to assist and support women by engagement, high quality coordinated responses and providing access counselling and other necessary services.
Associate Professor Jan Coles from the Department of General Practice was the keynote speaker for the Australian Women's Coalition (AWC) recent launch of the Happy Healthy Women: Not Just Survivors report in Sydney. The report advocates for an improved accessible affordable long-term model of integrated care for survivors of sexual violence and will be used to lobby for improved services with the Australian Government. The full report can be viewed at http://www.awcaus.org.au/Projects.aspx.
"As health professionals we are often unaware of our patient's history of sexual abuse. Routine physical examination can be challenging to survivors and as doctors we may be unaware of the difficulties arising for patients." Associate Professor Jan Coles.
"My work as a therapist has taught me that trauma that is buried is not gone – it gets written in the body as symptoms. Doctors by and large haven't understood the connection between sexual trauma and patients' symptoms – between the body, the spirit and the mind." Dr Raie Goodwach National Summit Introduction.
"Accessing health care can be difficult: The lack of recognition, the cost, the attitudes and the difficulty of finding the right services when necessary across a lifetime. Responses are focused on acute rather than the long-term needs of women" Combined feedback from National Summit.
Some of the recommendations are very pertinent to the education of undergraduate and postgraduate students across Faculty of Medicine Nursing and Health Sciences.
These included Recommendation 16
Incorporate long-term health sequelae of sexual violence (including assessment, treatment, management, and referral pathways) in undergraduate medical curricula, postgraduate training, and continuing medical education to equip doctors to recognise and respond effectively to the needs of survivors.
Although the report recommendations focused on doctors, they can be applied to all health professionals who provide direct clinical care to survivors of sexual violence. Opportunities exist for Monash University to become a leader in undergraduate and postgraduate health professional education in this area.
The report, which is part of the advocacy work of the AWC, includes AWC membership perspectives, the views of key stakeholders from the National Happy Healthy Women Summit that was led by Dr Raie Goodwach and Associate Professor Coles in Melbourne in May.
(1) Unifem: Main Strategies to End Violence against Women and Girls (Health) p1.