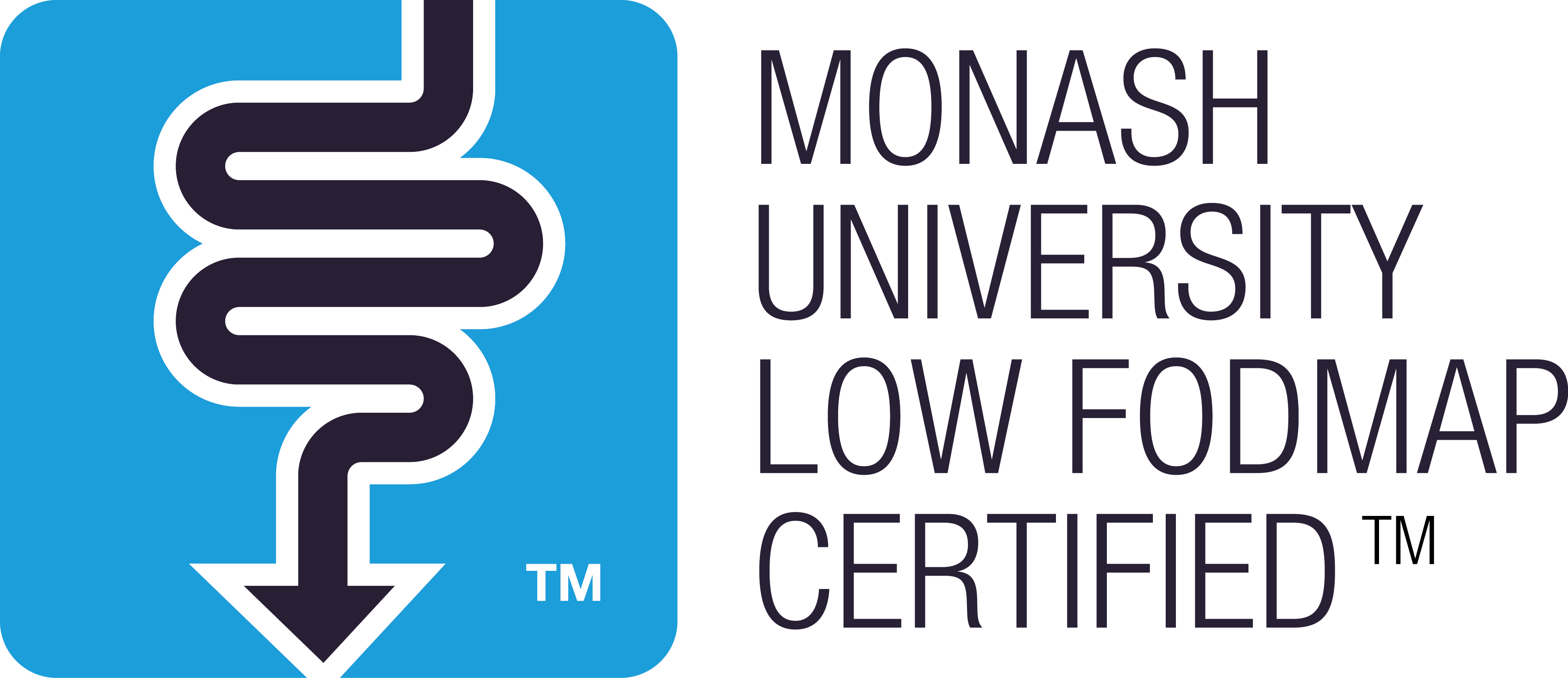 Applying to the Program
Application Process
Step 1: Complete and Submit the Application Form
Download and complete the Application Form and Product Information Spreadsheet and email the form to fodmap.certified@monash.edu
The form requires you to provide the following product information:
Brand and product name.
Confirm if your product is new or existing.
Ingredients list.
Serving size.
Nutrient composition.
Products must not contain garlic, onion or their derivatives, or have added FODMAPs (e.g. fructo-ologosaccharides, inulin).
All information supplied will be kept in strict confidence and will only be used to assess eligibility to apply for certification. If you have any concerns with providing this information, a Confidentiality Agreement is available upon request. Please only fill in 'Section 1: Applicant Information' and email the team to initiate discussions.
Step 2: Consultancy Agreement and Testing Fee
Your application will be reviewed. Upon confirmation of which products are qualified to apply for certification, sign the Consultancy Agreement which outlines the terms of FODMAPs testing and how your product and intellectual property will be protected. Pay the FODMAP testing fee upon receipt of an invoice.
Step 3: Send Products for FODMAP Analysis
Send products directly to the testing body that will be performing the FODMAP analysis (postage instructions will be provided).
To perform FODMAP analysis we require:
For existing products:

3 samples from 3 different batches (per product); and

For new products:

2 samples from the same batch (per product).
A detailed report confirming FODMAP results will be delivered within the timeframe specified in the Consultancy Agreement. Standard turnaround time for 5 products is 5 weeks from receipt of samples in quality condition.
For products that are not low in FODMAPs, at a consultation fee we can work with manufacturers to reformulate products to meet the low FODMAP criteria.
Step 4: Certification Opportunities and License Agreement
Manufacturers will participate in the following opportunities upon joining the Certification Program:
In-app promotions

: List certified products in the Monash University Low FODMAP Diet

TM

App.

License to use the "Monash University Low FODMAP CertifiedTM" stamp in a variety of ways:

Including on product packaging, print media, in-store advertising, website and social media.
Review and sign the License Agreement covering the terms and responsibilities for participating in the program. Pay the license fees as they fall due.
Step 5: Submit Certified Food Packaging and Promotional Material for Approval
The Style Guide describes the design requirements for the placement of the stamp and advisory statement on food packaging and promotional material. Provide us with a draft of the certified food packaging and any promotional material for approval.
Step 6: Submit Details of Certified Products for App Inclusion
Provide a brief business profile and product descriptions, along with professional images of the certified products (in its certified packaging), to be formally included in the app.
Step 7: Product Launch and Coordinate Marketing Initiatives
Your products are now ready to be officially launched as certified to be low in FODMAPs by Monash University.
We will promote your newly low FODMAP certified products via our website and social media sites. To ensure added benefit and value, it is important for both parties to communicate marketing efforts and planned initiatives with advanced notice.
Step 8: Random Audits
All products enrolled in the program will be subject to a random, annual audit to ensure ongoing compliance with the low FODMAP criteria.