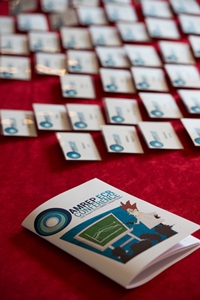 Share this news story
---
AMREP Early and Mid Career Researcher events
AMREP Early and Mid Career (EMCR) events including seminars, conferences and symposia provide an AMREP-wide forum for EMCRs to present and discuss their work in both oral and poster presentations. These showcase events are intended to foster collaborations, networking and a greater awareness of the expertise and research being conducted on the site. The EMCR also hosts seminars featuring external speakers for EMCR professional development. See link for detail.
2017 EMCR Retreat
Save these dates: Thu 26-27 Oct 2017
Cost: This is a free event (including catering, accommodation and transportation) which is fully subsidised by AMREP partners and our generous sponsors
Watch this space for further information

Are you a student, Research Assistant or an Early Career Researcher based at AMREP? This two day retreat will provide an excellent opportunity for researchers from around AMREP to come together and network. There will be a series of professional development seminars and workshops to teach you tools and techniques to help streamline your research.
Archive
Please see the EMCR events archive index page for information on the events listed below
2016 EMCR conference

2015 EMCR symposium
2015 EMCR retreat
2015 EMCR Obesity symposium
2014 EMCR conference

2013 EMCR conference
2013 EMCR retreat

2012 symposia